Samsung Exhilarate announced for AT&T; LTE-powered, eco-friendly smartphone for under $50
2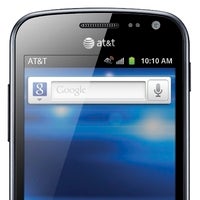 Here is a smartphone that is built with the environment in mind – the Samsung Exhilarate. Constructed from 80 percent recycled post-consumer materials, the device successfully meets a number of sustainability standards. That is why it has been given a Platinum certification by UL Environment – a group of folks that determine how "green" a certain product is.
At the same time, the Samsung Exhilarate should deliver a decent Android experience, and while we are not expecting to see any spectacular hardware under its hood, its front is occupied by a 4-inch Super AMOLED display. Both a front-facing and a rear camera are on board, along with an LTE radio for speedy access to the internet.
The Samsung Exhilarate is planned to launch on AT&T in the forthcoming months, and getting your hands on one will not cost you more than $50.