Samsung Belgium will donate a pear for every Apple tweet sent out today
29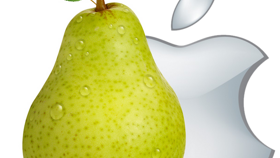 With only a couple of hours before Apple kicks-off its
iPhone 6 and iWatch event
, Twitter is - unsurprisingly - flooded with tweets about the Cupertino company… and the Belgian division of Samsung has found a way to turn all this into a mini campaign that's both helpful and fun.
According to Samsung Belgium, the company will buy a pear for "every tweet about an apple", then hand out the fruits, for free, tomorrow at the Brussels-North railway station. Samsung isn't buying pears just because they're not apples. There's a more serious reason behind this: following recent bans on imports and exports to and from Russia, Belgian pear cultivators are reportedly in danger of loosing about 40% of their revenues. Thus, Samsung is helping local farmers by buying what will certainly turn out to be a very large number of pears.
If you want to spread the word about Samsung Belgium's campaign, use the #aPearForAnApple hashtag in your tweets.