Samsung BYOD security suite KNOX said to be delayed
2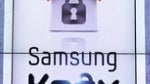 Back in February,
Samsung introduced KNOX
which is a security system for the Korean manufacturer's Android phones. With the press of a button, KNOX is supposed to "lock in" all of your business and work applications in a
secure environment
that protects against malware, spyware and leaks. By pressing the KNOX icon, a "secure container" offers certain work related applications like a browser, contacts, calendar and business applications. Another press of the button allows you to go right back to using your phone in the usual manner. Samsung is battling to grab business in the hotly contested BYOD niche where employees are now being allowed to bring their own smartphone to work instead of relying on a work-issued handset.
Originally, it was Samsung's intention to have KNOX ship on the
Samsung Galaxy S4
, which hits U.S. soil as soon as this Saturday for AT&T. But Sammy now is delaying the release of the security software so that it can undergo more internal testing and testing by the carriers who will need to support it. One anonymous source says that KNOX won't be released
until July
.
Eventually, Samsung expects KNOX to ship on some Samsung Galaxy devices. With the popularity of the Samsung Galaxy S4, the OEM has a chance to make its flagship Android model the new "go-to" phone for the enterprise, replacing BlackBerry. The latter, with its above average email client, messaging capabilities and physical QWERTY keyboard, had been considered the businessman's phone for years until the touchscreen revolution caught management of the company in denial. Now, after losing more than just a few contracts to iOS or Android, BlackBerry is trying to fightback with its new OS and phones. But this could be the year that Samsung takes over in the office. It is no surprise that
the latest ads for the company's top-shelf smartphones
showed both the
Samsung Galaxy S III
and
Samsung GALAXY Note II
being used in a BYOD environment at a made-up software company about to launch a new game.
source:
NewYorkTimes
via
AndroidCentral