Samsung AllShare Cast Dongle media streamer hits retailers, makes your dumb TV smart
8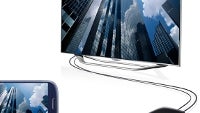 Amazon and other retailers have stocked up on the Samsung
AllShare Cast Dongle
that the Koreans revealed alongside the Galaxy S III announcement. It allows you to hook up your older non-DLNA TV for the modern times when streaming content from your mobile device to the biggest screen in the house is the bee's knees.
Besides directly mirroring your phone or tablet's screen, the AllShare Cast box actually uses WiFi Display for streaming those pics and 1080p videos to your TV, instead of the way DLNA does it, which needs to share an existing Wi-Fi connection. Hello, corporate presentations where the Wi-Fi is firewalled like Human Torch's backyard.
The dongle costs 73 pounds sterling at Amazon UK, about $116, with availability right now, whereas in the US Amazon it is listed for $90, but hasn't yet arrived in stock, it seems. That's the price to pay for getting rid of those HDMI cables running to the couch - the only ones you'll need are the HDMI running from the AllShare Cast hub to your TV, and the power cable.
You can leave those dangling behind your TV set, too, as the gizmo doesn't need a direct line of sight for streaming those movies from your Galaxy S III to your TV.