S&P downgrades Google stock in light of Motorola purchase
39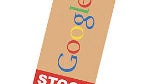 Google's purchase of Motorola
has been a fairly divisive decision in all areas of society: tech pundits are unsure if Google can successfully do hardware, lawyers are unsure if Motorola's patents really provide that much protection for Android, and now even the financial sector is down on the move. Standard & Poor's, the company made famous from its AAA ratings of market killing mortgage-backed securities, has downgraded its projections for Google stock.

S&P has downgraded the 12-month price target for Google stock from $700 to $500, and changed the rating from "buy" to "sell". S&P equity analyst Scott Kessler said regarding the move that the purchase of Motorola will lead to greater risk to Google and its stock. He also said that the company is not sure how well Motorola's patents will help in protecting Android, and that the purchase would "negatively impact [Google's] growth, margins and balance sheet."
Of course, Motorola has been a successful company, and if Google follows through on promises to keep Motorola separate and run separately, these fears may be unfounded. Then again, even modest success from Motorola may lower overall growth of Google, which has been growing extremely fast.