Rogers & Bell prices the BlackBerry Pearl 9100 at $449.99 no contract?
This article contains unofficial information.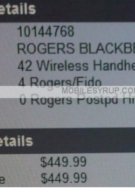 It's not to say that the prospect of ponying up a boatload of cash to get our hands on the upcoming BlackBerry Pearl 9100 isn't a bad thing, but we're sure there are people out there who prefer to not be tied down with a contract. And in the case for our friends in Canada, 3 years is quite an extended amount of time to be tethered with a wireless carrier. Those consumers that plan on grabbing the BlackBerry Pearl 9100 when it finally is released will have to come up with $449.99 to nab it outright and without any contract commitments required. The leaked information paints an accurate pricing for the full price of a handset, but there is still no concrete information regarding the smartphone's exact launch date and pricing – but it's heard that it'll most likely go for $49.99 with a 3 year contract through Bell and Rogers.
RIM BlackBerry Pearl 9100 Preliminary Specifications
source:
MobileSyrup