Robber holds up a restaurant with an iPhone
9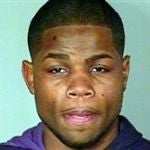 A 20 year-old would-be
robber
attempted to hold up a Connecticut restaurant using only an iPhone. When Jerome Taylor entered the Indian restaurant in New London, Connecticut, he told them he had a gun, and demanded the money from their registers. But the wait staff wasn't going to roll over that easily.
The chefs drew their knives, and told Taylor that they weren't giving him anything. Taylor quickly changed his tone, apologizing, claiming that it was only a joke, and that he was trying to get money to support his young child.
Taylor escaped, but was soon tracked down by the police. When found, he confessed to the (attempted) crime, and explained that the "gun" in question was really his
iPhone
. The restaurant refused to press charges, but police arrested him anyway.
We don't think Taylor was aware that his actions constitute armed robbery, even if the victims only thought he had a gun. Is there an iPhone app for finding a good criminal defense attorney?
source:
msnbc
via
Gearlog