RingPlus gets blessing to launch Sprint MVNO, free cell phone service on the horizon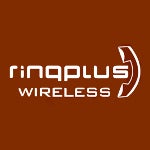 RingPlus announced today that Sprint has given their approval for an initial MVNO launch in San Francisco, New York, and Los Angeles. RingPlus has been the industry leader in the ring back tone market, and now plans to get into the private label service provider field.
While its announcement is vague, RingPlus says it's a
"free-spirited telephone community in which all users interact in an environment of trust, honesty, and respect. Ringplus' end goal and future vision is to provide unlimited free-calling to the world paid for by advertisers through advertisement ring back tones."
While it only offers a mean to sign up to be notified of updates, the teaser page RingPlus has launched hint that the new MVNO will offer mobile voice service in exchange for callers listening to an advertisement or sponsored message.
It will be interesting to see how this plays out as they're pioneering this type of service. Its been a successful model for other services such as FaxZero and NetZero, among others. In a world saturated by advertisements, we're excited to watch RingPlus's offering play out. The question will ultimately be if people will be willing to listen to advertisements in exchange for free or subsidized mobile phone service.
source:
RingPlus
via
PhoneScoop