Research firm says third-gen Apple iPad users more likely to use the tablet for business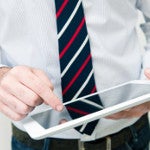 "
Now that Apple has launched three generations of the iPad, it's become clear that they intend it as a tool, not a toy, especially with the improved display and faster connection. Apple also appears to have pushed into the business segment, so perhaps that effort has started to pay off. On the other hand, business use still represents a fraction of all uses, relative to entertainment and games, so it's still way early for Apple to declare victory in the enterprise space."-

Michael Levin
, CIRP partner
Research done by
Consumer Intelligence Research Partners
shows that the third-generation of the Apple iPad is finding its way inside the office as more and more people are bringing the tablet to work. A survey of 1,000 iPad buyers who purchased the device between December 2011 and April 2012 found that 21% of those who
purchased the third-generation Apple iPhone
plan on using the tablet for business. That is higher than the 13% of buyers of all iPad models during that time period who pack their tablet with their lunch pail.
While users of the third-gen Apple iPad are more apt to bring their tablet to the office, most other activities are enjoyed by users of
all three iterations of the tablet
to the same degree. So what is it about the 3rd-gen model of the Apple iPad that makes it so useful at work? Part of the answer could be the Retina display and LTE connectivity. The iPad is also accepted in more different kinds of businesses as being standard equipment. In almost any industry, the tablet fits in, replacing paper forms, displays and even PCs and laptops.
To show just how accepted the iPad has become in the office, a year ago 86% of the Fortune 500 were testing the Apple iPad or had employees using it for work. By this April, that number had jumped up to 94% of the Fortune 500 and 70 % of the Global 500. Part of the reason for this trend is an
increasing number of useful business apps
and the blurring of the line between a consumer device and one made for business.
source:
AllThingsD