Report claims Apple's iPhone 6 will stick to an 8MP camera
62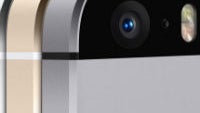 Another day of CES obviously means more Apple rumors, and the latest bit of news about Apple's next flagship smartphone is regarding the phone's camera. There had been some rumors claiming that Apple was planning to bump the camera to a 16MP sensor; but, a new report from China is saying that Apple will stick to an 8MP sensor and offer improvements in other ways.
We are all pretty familiar these days with the fact that megapixels aren't such a great determinant of camera quality, and it seems that Apple believes that. The report says that Apple will stay at the 8MP mark for the iPhone 6, but will offer optical image stabilization (OIS), as well as other improvements. Unfortunately, there isn't any word on what those improvements may be.
Apple's iPhone 5s also stuck with an 8MP sensor just like the iPhone 5, but improved performance in other ways - making the pixel size larger for better low-light performance, making the aperture wider, changing the lens material, adding dual flash, and slow motion video.
Apple apparently doesn't see value in following other companies who use higher megapixel counts as a replacement for optical zoom. Nokia is tops in this with its 41MP Lumia 1020 and 20MP Lumia 1520; Sony's flagships offer 20.7MP cameras; and, Samsung's Galaxy S5 is rumored to feature a 16MP sensor.