Report: Samsung now with better reputation than Apple in the U.S.
18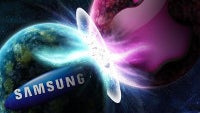 According to market research firm Harris Poll, Samsung surpassed Apple for the first time in its annual Reputation Quotient study on the 100 "most visible companies" in the United States. The research spans across six main categories, including social responsibility, emotional appeal, products & services, vision & leadership, financial performance, and workplace environment. Samsung bested Apple in three out of these six.
Overall, in the public's eye, Samsung took the number three spot on the unified rank list (from #7 in 2014), while Apple lost ground and ended up 9th (from #3 in 2014). The 1st and 2nd spots were taken by Wegmans Food Markets and Amazon.com, respectively. Those two are again on the top if you ask industry experts (what Harris Poll calls 'opinion elites'), but Samsung and Apple are neck-and-neck, taking the 6th and 7th place, respectively. Other tech giants that ended on the list include Google (#10), Sony (#13), Microsoft (#15), Intel (#20), and LG (#23)
The report then goes on to note that both opinion elites (57%) and the general public (36%) are quick to take action and boycott a company if it finds something negative about the way it conducts itself. In fact, 72% and 53% (opinion elites/public) say that more so than in the past, they actively try to learn more about the companies that they hear about or do business with. Smart choice, there!