Reflect the light in order to win at God of Light, an Android/iOS physics puzzle game
5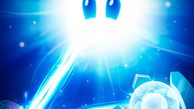 God of Light, a relatively new physics puzzle game, has made it to the Google Play store. Released for iOS roughly a month ago, this title requires you to play as a tiny light-emitting particle, called Shiny. Its goal is to save the universe from menacing darkness by lighting a number of so-called Sources of Life, which shine upon the world.
The gameplay of God of Light is pretty simple – you have to navigate the light emitted from Shiny to the Source of Life via various mirrors and reflective objects. Still, there's a little twist – you'll be playing in a pitch black environment, which means that you'll have to explore each level and find the mirrors. A tiny light ray, beamed from Shiny, comes to your aid, as it will assist you in this troublesome task.
As you progress, the levels will become gradually harder. In order to finish some of the more tough challenges and guide Shiny's beam to its goal, you'll have to make use of miscellaneous objects, such as prisms, splitters, collectors, black holes, filters, etc.
God of Light comes with some 75 levels, each with its unique layout and objects. These are divided into 3 worlds with different environments.
If calming puzzle games float your boat, you should head to Google Play and check out God of Light - it's a fresh title, which might soothe your nerves a little. The game is free for Android and priced at $1.99 for iOS, also bear in mind that there are some in-app purchases.
Download: God of Light (
Android
|
iOS
)