Project Fi will give you $250 in service credits with the purchase of a Pixel 2 XL
2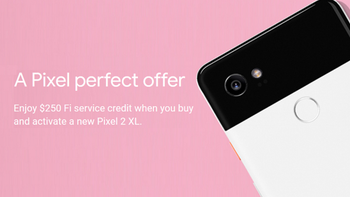 Project Fi is Google's hybrid MVNO that offers connectivity from three carriers and two million Wi-Fi hotspots. Subscribers' phones look for the carrier with the fastest data speed available at the moment from Sprint, T-Mobile and U.S. Cellular. With the Bill Protection plan, subscribers pay $10 for each GB of data consumed during the month, up to 6GB. After that, all data use is free until the start of the next billing cycle. In other words, one individual will never pay more than $60 per month for unlimited data.
Project Fi also has a couple of deals on some high-end phones. Buy the
Google Pixel 2 XL
, and activate it within 30 days after the phone is shipped. Stick with Project Fi for at least 30 days, and you will receive $250 in service credits. According to Project Fi, this credit "can only be used toward service costs like data, calls, and texts; they cannot be applied to taxes or device financing." If your entire family has their own line, every one of them can take advantage of this deal. The 64GB Pixel 2 XL is priced at $849 or $35.37 a month over 24 months.
If the
LG V35 ThinQ
or
LG G7 ThinQ
are more your cup of tea, either can be purchased from Project Fi for $300 off the usual price. That reduces the price of the V35 ThinQ to $599 (or $24.95 a month over 24 months), and the G7 ThinQ to $449 ($18.71 a month over 24 months). Both of the LG models have to be activated within 30 days after they are shipped or else you will have to pay full price. One discounted phone can be purchased per customer.
If you're interested in any of these deals, or want to check out Project Fi, click on the sourcelink below.