Real-time strategy (RTS) games for Android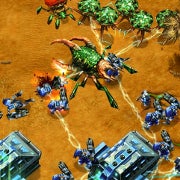 Real-time strategy games for Android are somewhat hard to find, which is a bit strange considering that these games are much easier to play on a touchscreen, compared to action games, for example. Anyways, we did a little digging and it turned out that there are such titles, so if you're interested in building some bases and training a footman or two, just go ahead and check out our picks below - we did our best to choose only the worthwhile ones!

Of course

, don't forget to share your thoughts below, after you check our picks out. Do you know any other good RTS games for Android?