Reading Rainbow hits stretch goal of $5 million, so it's coming to mobile
11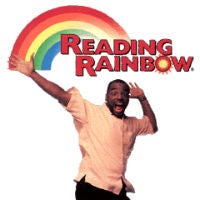 If you lived in America as a child anytime from the early 80s until about 10 years ago, there's a fair chance that you have experienced
Reading Rainbow
. The show, hosted by Lavar Burton, taught kids about the joy of reading. And, we here are pretty big fans of reading (what with being a bunch of writers who like having a literate audience). So, we're pretty happy that the
Reading Rainbow
Kickstarter has reached its stretch goal of $5 million.
In case you missed the whole story, PBS cancelled
Reading Rainbow
back in 2006, and Lavar Burton has always wanted to find it a new home. Eventually, he realized that the Internet is the perfect home for the program, and so he started a Kickstarter campaign back in May to raise $1 million in funding for a web-based
Reading Rainbow
. It took less than 12 hours for that goal to be reached, so there was a stretch goal added at $5 million, which would not only bring RR to the web, but to mobile devices, gaming consoles, and streaming TV boxes like Roku. Before the Kickstarter ended, the campaign raised $5.4 million, not counting a pledge of $1 million from
Family Guy
creator Seth MacFarlane.
There is already a
Reading Rainbow
iPad app, but because the campaign hit its stretch goal, there will be new apps designed for the iPhone and Android phones and tablets. In addition, Burton and his team will be using the funding to give 7,500 classrooms free access to
Reading Rainbow
for at least a year. It's always great to see the power for good that the Internet has.