Razer "Kazuyo" gamepad for iPhone 5/5S outed by @evleaks
2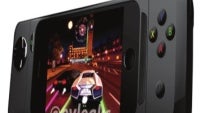 Razer acts on each and every opportunity to make a piece of gaming accessory or periphery - from game controllers for tablets to tablets with built-in game controllers, and all kinds of gizmos in-between. Now, the prolific @evleaks has pulled the curtain on Razer's latest invention – a gamepad for the iPhone 5/5S codenamed "Kazuyo". It's an obvious and expected move for the company after Apple announced the built-in support for external controllers in iOS 7.
Kazuyo features only the essential controls - a D-pad, four buttons, a power key and what appears to be a Pause button. It houses the iPhone inside an adjustable cradle, and probably has an additional battery built in the back. Although it lacks the joysticks and shoulder buttons that are already covered by
competitors such as Logitech
, there aren't that many games (bar console emulators) that can make proper use of them... yet. The increase of processing power in mobiles will inevitably lead to more complex games, and manufacturers of such peripherals will have to follow accordingly.
We don't know Razer's plans for launching and pricing the Kazuyo, but the date it hits the street shouldn't be far off.
source:
@evleaks (Twitter)
via
GSMArena