RadioShack's system indicates myTouch Slide is coming?
This article contains unofficial information.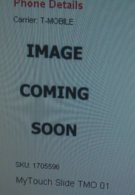 RadioShack is looking to be one of the indirect launch partners for the T-Mobile myTouch Slide as there was a leaked screenshot of RadioShack's Direct2U system that indicates its presence. Possibly seen in the
buff
already, the assumed successor to the T-Mobile G1 is still lacking a photo on the screenshot to truly identify itself. Nonetheless, its arrival in T-Mobile is still being speculated by some sources to be on May 17th – it's not clear if RadioShack's launch date will coincide with that. T-Mobile is once again turning out to be the carrier to truly embrace Android and the myTouch Slide looks to supplant itself into the carrier's wide array of Android offerings. Luckily, RadioShack offers instant rebates as opposed to the mail-in ones that are offered through carrier stores – so maybe it'd be wise to check them out once it's made available.
T-Mobile myTouch Slide Preliminary Specifications
source:
Engadget
via
TmoNews