RIM sued over BBX trademark
8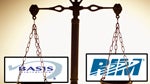 New Mexico software company BASIS International Ltd has made good on their threat to sue Research in Motion to prevent RIM from using BBX as the name of their new
QNX-based mobile operating system
.
BASIS says they built up the BBX trademark over the last 25 years to stand for platform-independence. They claim that RIM's attempt to use the name for their operating system would cause irreparable harm, usurping BBX's platform-independence and permanently associating it with the BlackBerry ecosystem.
Arguably this has already occurred to some degree, as a quick Google search reveals far more information about RIM's mobile operating system then it does about BASIS and their platform-independent business solutions.
It may be less likely that this trademark issue gets resolved out of court, as the interests of the two parties seem diametrically opposed. RIM has already gone all-in on the name of their new operating system, while BASIS feels it has to defend its reputation for being platform agnostic. RIM has not commented on the lawsuit at this time.
source:
BusinessWire
via
Yahoo! News