RIM shows off BlackBerry 10 Cascades MapView
8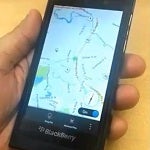 Developers, RIM wants "maps in your apps" for BlackBerry 10. To facilitate that, RIM updated the SDK for BlackBerry 10 which includes MapView for Cascades.
For users, MapView allows applications to show map interactions and map tiles. Granted, these are features we are accustomed to in the other operating systems, but from what we can see in the demonstration below, the execution in BlackBerry 10 is pretty sharp, especially the "tilt" feature.
For developers, these APIs ensure their applications are on par with companion products that are made for the other platforms. With the updated SDK, developers can use tilt and rotating features, drop push pins and provide information "bubbles." Those last two can be customized with developer-specific branding.
We like what we see in the demo video, the fluid
motion
of the maps is quite impressive. We are looking forward to seeing this work in real-time in our hands.
source:
BlackBerry Developer Blog
via
Berry Review