PornHub jumps on the virtual reality craze: get your VR goggles ready and reconsider the need for a girlfriend
62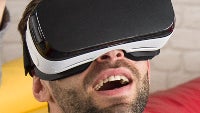 Hey, it was only a matter of time for this to happen! PornHub, the website that needs no introduction for most men and some women, has launched a virtual reality section that brings sexy time straight to your VR goggles.
Get those cardboards and other futuristic virtual reality goggles ready and reconsider any needs for a girlfriend.
PornHub has partnered with VR porn store BaDoink for the noble initiative and it offers some - but not a lot - 360-degree video content. We're certain their catalog will be expanding exponentially in the near future.
VR porn obliterates the need for real life... or does it?
How does it feel like? Well, we just had a sneak peak at the website (link below, obviously very NSFW) and have not - professionally! - reviewed the service for any flaws, but our experience with the Gear VR for once in general has been fairly immersive and satisfactory. You can definitely notice some pixelization in videos and the refresh rate is not ideally instantaneous when you move your head, but for $100 it's a very good first start for virtual reality enthusiasts.




The whole new VR porn thing works in the browser on Android and iOS (it requires an app, if you dare download that), and there's even an Occulus app. So with all this in mind, we leave up to you the decision whether or not to click on the link below. Just keep in mind that watching VR porn on those futuristic goggles is totally indistinguishable from watching any other VR content, so keep that in mind next time you see someone oohing and aahing with those goggles on. Who knows what they're watching!