Pop Video is the cheapest iPhone pico projector we've seen yet: yours for $99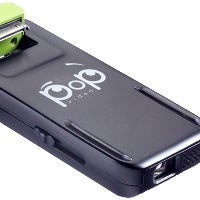 If you ask us, every smartphone should have a pico projector built in much like the Samsung Galaxy Beam. But if it doesn't, you should at least be able to easily connect a pico projector to it, and that's exactly what
Pop Video's iPhone projector
does.
It's a neat little projector that connects to your iPhone via the 30-pin slot, and
what's most impressive about it
is its price - a mere $99. As a big bonus, it outputs video at the iPhone's native 540x960 pixels of resolution. Now, having support for qHD alone is a huge advantage over competing products, and combined with a price of more than $200 on competitors it seems like a runaway deal. Brookstone has the Pocket Projector that competes in the same class, for example, and it costs a whopping $229.
The Pop Video pico projector packs its own battery that will play back videos for around two hours. It could then be recharged via microUSB. The projector works with the iPhone 4 and 4S, and also with the third and fourth-gen iPod touch. Here are the spec highlights of the projector built by Micron Technologies:
Dimensions: 4.4 inches x 1.8 inches x .6 inch (HWD)
Weight: 3.5 ounces (97g)
Input: 30-pin dock connector
Video Output: qHD (960 x 540 pixel resolution)
Battery: Built-in Lithium-ion rechargeable battery
Playtime: Up to two hours with full battery charge
Charging: Micro-USB charging (1.2 compliant)
Charge time: About 4 hours
iOS version: 5.0 and greater
Along with it comes a free applications that will allow you to tweak the projected image, and also project from within apps like Facebook. The promo video will tell you the rest of the story in living images and you can pre-order now, but there's no fixed release date - we'll let you know about that as soon as we find out, so stay tuned.