PoochSelfie snap-on phone accessory changes the way you take dog selfies forever
9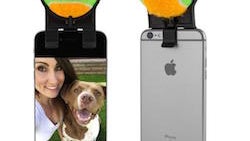 As a mobile technology website, we are inspired by innovation in any tech or device that can make your life better and brighter. But when a company offers a product that is both innovative and dog-related, we just melt. Dog-lovers, raise your hands! (*everyone raises hands*)
A California-based company called Clever Dog Products has invented "the first of its kind" accessory that will help you make the perfect dog selfies. There is absolutely nothing ground-breaking in terms of technology that the device offers, but the idea and concept behind it are quite clever, we must admit.
PoochSelfie is pretty much a plastic ball holder that snaps on top of your phone, and the squeaky tennis-sized ball placed on it attracts your dog's attention to the camera. It's brilliant, isn't it? Another first-world problem is finally solved, and Instagram cute animal pics landscape is changed forever.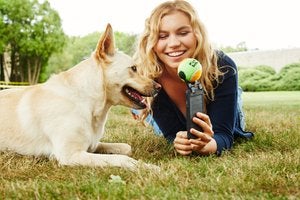 The PoochSelfie comes with its own brightly colored ball, but you can use just any tennis-sized ball you have lying around. Note that the accessory is advertised to work specifically with iPhone and Galaxy smartphones, but should be also compatible with other popular devices, as long as the clips don't cover the front camera and you don't have an overly bulky case. While the PoochSelfie has been designed with dogs in mind, perhaps you could also try it with your cat, as long as it is into brightly colored toy balls.
If you haven't reached for your credit card already, let us tell you that the product has an 85% 5-star rating on Amazon and on a bargain-deal at $12.99, with free delivery. On the company's website, you can also find spare squeaky balls and a PoochSelfie twin pack deal for 20 bucks.