Poll results: iPhone users, if you were to use an Android phone as a daily driver, which would you go for?
57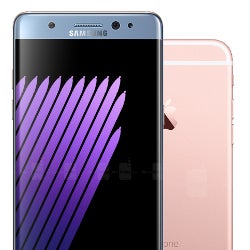 So, now that both Android and iOS have matured quite a bit through the years, and many users have had a chance to own or at least try a phone of both flavors, we imagine quite a bit of our readers have a clear-cut reason for liking their specific phone of choice, no matter what system it is on. Or, some may even own two phones or a mix between an Android phone and iPad — it's OK, we're all geeks here.

So, we wondered, for those of you that usually rock an iPhone, what would your go-to Android phone be? If, hypothetically, you absolutely can't use an iOS handset anymore, which of the many Android ones would you instantly decide to pick up?
Admittedly, the choice to pick a Nexus was not present in this poll, which we will take responsibility for and promise to rectify in some future poll. But, for the time being, it seems the Note 7 has really made a strong impression in users, many vowing to switch from iPhone to Samsung's phablet. Well, that's interesting.