Poll results: What did you think of the Microsoft Surface Pro 3?
34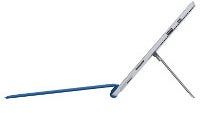 Just two days ago, Microsoft introduced to the world its third addition to the Surface Pro line with the Pro 3 -- a tablet that attempts to melt away the perceived distinction between the laptop and tablet form factor. Indeed, the Surface Pro 3 is a full-fledged PC, nestled in the relatively compact body of a 12-inch tablet. Powered by Microsoft 8.1 Pro and Intel Core processors (there are as many as 5 different versions), this slate is no joke, and it's mainly aimed at creative professionals and tech hobbyists at best. That's not surprising, considering the steep price tag on the thing -- it starts at $799 for the least potent model, and shoots up all the way to $1949 for the most powerful one.
Obviously, that's quite some dough for a tablet, though the Surface Pro 3 isn't just any tablet, now is it. In fact, looking at the results from our poll aimed at gauging your feelings towards the fancy Microsoft gadget, many of you tend to agree. Put it numbers, out of the 2363 people that cast their vote, 27.3% are bananas about the slate. 48.67% of voters also dig the new gizmo, though the price tag is a bit much for them, while the remaining 13.71% consider it obscenely overpriced.