Poll: Will you pay $249 for the Moto 360
42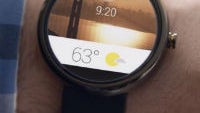 So, a new
Best Buy listing
has apparently outed the specs and pricing of the Motorola Moto 360 Android Wear smartwatch. There were some surprises in the listing, like the Texas Instruments processor and Wireless N connectivity (both of which should be considered rumors until proven true), but the biggest news of all is in the listed price tag of $249.
Overall, the Moto 360 sounds like the device we've been hoping for. It has stainless steel design, a leather strap, a 1.5-inch LCD display, a heart rate monitor, and a built-in pedometer. If the Wireless N connectivity is accurate, that would allow for some independence from a smartwatch as well. The only real question left is with the battery life of the device. The battery capacity was not included in the listing, but there have been rumors of 2.5 days of battery life. With the ambient light sensor and TI processor, that kind of battery length could be possible, but we don't yet have confirmation.
For comparison, the LG G Watch costs $229 and the Samsung Gear Live is listed at $199. With all of that info available, the question then becomes: will you pay $249 for a Moto 360?