Poll: Will you be using more widgets when iOS 10 and its widget lock/home screens rolls out?
60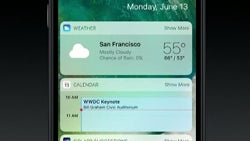 With the recent announcement of the upcoming
iOS 10
, Apple unveiled a lot of new stuff that will be making its way to iPhones worldwide later this year. Among them are the two new widget screens — spots, entirely dedicated to your widgets! One is found on the lock screen – swiping right will scroll to a widget screen, allowing users to gather at-a-glance information right from their lock screen. The other one is found to the left of the home screen – the place that used to house just a Spotlight search and a few Siri suggestions will now also be filled with widgets, arranged to the user's taste.
However, widgets still feel slightly weird on iPhones. Sure, they are relatively young on the concept – Apple allowed for 3rd party widgets to be made for its system
about 2 years ago, with iOS 8
. But the fact that, thus far, widgets could only be placed in the notifications shade didn't seem to help much with getting them more popularity.
So, we have to wonder – would the two new widget screens manage to get users more invested in widgets, or do you believe the problem lies somewhere else? Weigh in!