Police in Britain now able to monitor cell phones
7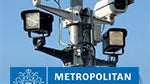 In an age where we are constantly trying to find the balance between security and liberty, the Metropolitan, or Met, police force in Britain have garnered the attention of lawyers and privacy groups over its recent acquisition of a surveillance system that can monitor civilian cell phones.
The system, which has been purchased from
Datong plc
, can emit a signal that covers approximately 10 square kilometers, or 3.8 square miles. Phones within this area can be sent a signal that forces them to
release their IMSI and IMEI identify codes
. Once this occurs, the MET police have the ability to track the phone's location in real-time, intercept communications to and from the device, obtain data about the user, and even shut off the phone entirely.
Neither Datong nor the Met have made clear whether the system targets a specific person or if the entire populous within range is affected by the technology. The Met has also denied comment as to whether or not it has used the system in conjunction with crowd control, such as situations with large amounts of protestors.
This withholding of information on the scope and use of the technology had caused concern from Nick Pickles, director of privacy and civil liberties campaign group Big Brother Watch, saying, "
It raises a number of serious civil liberties concerns and clarification is urgently needed on when and where this technology has been deployed, and what data has been gathered.
"
Barrister Jonathan Lennon has also questioned the device's legality in reference to the UK's Regulation of Investigatory Powers Act (RIPA) by saying, "
How can a device which invades any number of people's privacy be proportionate? There needs to be clarification on whether interception of multiple people's communications – when you can't even necessarily identify who the people are – is complaint with the act.
"
A spokesperson for the Met police said, "
We can re-assure those who live and work in London that any activity we undertake is in compliance with legislation and codes of practice.
"
Leeds-based Datong also operates an office in the US and has had prior contracts with the Secret Service, Special Operations Command, and the Bureau of Immigration and Customs Enforcement. In February of 2010, Datong supplied the US defense sector with tracking and location technology making this something to watch domestically as well as abroad.
source:
TheGuardian