Plans of "no more cell phone calls in cars" to be implemented soon?
8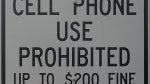 Ray LaHood, the U.S. transportation secretary told a show on MSNBC earlier this week that
"there's a lot of technology out there now that can disable phones and we're looking at that"
or, to put it straight, he suggests all cell phones to be automatically disabled as soon as you enter a car. His thesis is rather strong – he says that if this proposition is approved, 5000 road deaths a year would be avoided.
However, there are a few practical setbacks with this suggestion. First of all, it means you would be unable to talk on your phone, regardless of the fact that you may be just a passenger. Second, the implementation of the idea would be very expensive for car manufacturers and that's exactly what we don't need (as end customers) in these times of economic turmoil. There are a few other "small" issues – like what would happen if emergency case arises and you are unable to leave the car and would the GPS features work at all.
We guess that it's only a personal view whether the idea has more pros or cons. However, our opinion is that all practical implementations should be taken into account before someone simply decides that this is the end of the phone calls, while you are in a car.
source:
Gizmodo
Recommended Stories