Pizza Hut concept shows touchscreen table interacting with your Apple iPhone
25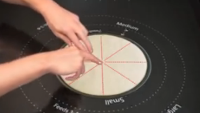 Pizza Hut has revealed an interesting concept in a new promotional video. Using a touchscreen table, and the customer's Apple iPhone, someone sitting down for dinner at the establishment can design a pizza just the way he wants it. At the same time, by placing the iPhone on the table, the touchscreen table recognizes the customer, and just might know his favorite toppings and method of payment.
It's a fascinating idea and could change the way that people are served in restaurants in the future, not just at Pizza Hut. Of course, it does remove the human touch from going out to eat. On the other hand, you might get to enjoy your meal faster and paying for it could be quick and painless without having to reach for your wallet for cash or a credit card.
Whether you like the idea of a touchscreen table greeting you by name, and knowing information about you stored on your phone, you have to admit that the concept looks pretty darn cool (and not at all cheesy). Check it out yourself by clicking on the video below.
source:
PizzaHut
via
RedmondPie