Want to gift someone a Pixel Slate for the holidays? You might want to pre-order it now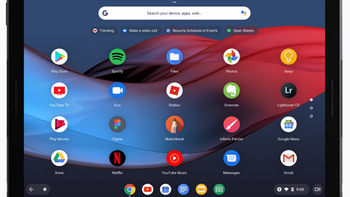 The Chrome OS powered
Google Pixel Slate
might be a great gift idea for the holidays.
As noted by CNET
, if you pre-order the tablet today, it won't ship for another two to five weeks depending on the model you choose for the recipient of your largesse. The
slates
Slates feature a Gorilla Glass 5 protected 12.3-inch display with a 3000 x 2000 resolution. The lower end models are powered by an Intel Celeron processor; the deeper you dig into your wallet, the more advanced are the Intel chips found under the hood.
Intel Celeron 4GB RAM, 32GB storage, $599; 3-4 weeks.
Intel Celeron 8GB RAM, 64GB storage, $699; 4-5 weeks.
Intel Core m3, 8GB RAM, 64GB storage, $799; 2-3 weeks.
Intel Core i5, 8GB RAM, 128GB storage, $999; 3-4 weeks.
Intel Core i7, 16GB RAM, 256GB storage, $1,599; 2-3 weeks.
The Pixel Slates carry a pair of 8MP cameras (one on back, one on front), and adding the Pixel Slate Keyboard ($199) makes the device even more productive for those on the go. A 48WH (watt-hour) battery keeps the lights on for as long as 10 hours, according to Google, and the company says that it does offer fast charging capabilities. And don't forget that there is a Pixel fingerprint sensor included.

So if you are planning on gifting someone a Pixel Slate for the holidays, you may or may not be able to hand over the gift in time. Hanukah starts the evening of December 2nd and runs through December 10th, so depending on the model ordered, you might be a little late with your present. Handing over a Pixel Slate for a Christmas gift shouldn't be an issue if you put in your order without procrastinating. The holiday, of course, takes place on December 25th. And those celebrating Kwanzaa have until the last day of the holiday, January 1st 2019, to deliver their gifts.