Pictures of Verizon's first LTE modem by LG
This article contains unofficial information.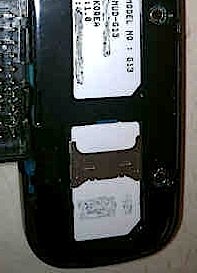 As you may recall, up to this point Verizon has been
running test
and deploying its 4G LTE network, as up to 30 markets nationwide are expected to be operational by the end of the year, and with some of those rumored to be up and running by November. We've also seen a mock-up of what the
SIM card
will look like that devices will have to use, the first of which is expected to be USB modem network cards, such as the
LG VL600
that was posted to the FCC site a few weeks ago. At that time, we learned that the LG VL600 would not only work on Verizon's 4G LTE 700MHz network, but would also be backwards compatible with the current 3G EVDO CDMA 1900MHz/800MHz network. Now we can see what the device will actually look like, as a few leaked pictures of the LG VL600 have surfaced. In the pictures you can clearly see the USB connector on one end, and on the back is where the SIM card would go, next to the product label. Many don't expect the LG VL600 to be released until later this year, though Verizon may start selling it earlier to business accounts, touting that it can work on 3G EVDO today and 4G LTE once its deployed.
source:
BGR