Picking up Glass from Google and some additional video perspectives
1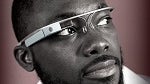 Software developer Noble Ackerson took a trip from Washington, DC to Google's headquarters in Mountain View, California to pick up Glass late last month.
Walking into the facility one can imagine seeing what could be the building blocks for a retail environment for Glass when it becomes available to consumers presumably next year. Noble decided to record the "event" of picking up his set of Glass, and getting fitted with it.
Since getting fitted, it has been all Glass from there for Ackerson. He has since shared videos of the perspective of Glass while riding his motorcycle, playing basketball as well as one of him watching himself in the mirror as he examines a photosphere of the Google Glass team.
One thing is particularly revealing about viewing photospheres while wearing Glass, no one around you is going know what you are doing, and it may be even stranger if you are talking to yourself in the process. Note for future reference: use discretion when viewing photospheres in public.
While the developer community and Google work to build the applications and define the uses for Glass, we will see more and more videos like this. We are interested in the hardware itself, and how Google will be addressing issues as developers run into them. There are reports that battery life is sub-par and the voice recognition is still a bit a work in progress. However, such "bugs" are not uncommon in pre-mass production cutting edge product.
sources:
Noble Ackerson
(YouTube) via
DVICE