PhoneArena's Retro-Rewind: Motorola Q
9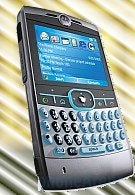 Nearly a decade ago the the mere thought of a smartphone brought to mind a PDA looking device that offered the convenience of a phone, but it would still be one hefty looking thing to carry around. That association quickly became the staple of almost every smartphone during the early part of the decade until Motorola came out with a handset that followed in the same footsteps as one of their finest achievements in mobile history. The
Motorola Q
quickly followed on the popularity of the
RAZR
with its thin profile and packed features to satisfy the gadget conscious individuals out there. When comparing it to some of its contemporaries, such as RIM's line of BlackBerry smartphones or similarly Palm's Treo, the
Motorola Q
had a distinct styling that ushered in the notion of smartphones looking sexy. As we look back at the new standards set by the venerable device, it nonchalantly shifted the mindset for manufacturers that design would now take precedence.
The Windows Mobile 5.0 device was announced back in 2005 and followed quickly after the success of the
Motorola RAZR
. As Motorola realized that the streamlined design of the
RAZR
translated into huge sales, the thought soon turned to the smartphone segment as the
Motorola Q
was born. The handset was quickly garnered by the mobile community as the thinnest device to feature a full QWERTY keyboard – which is by far its most attractive feature. Needless to say there were plenty of comparisons being made between the
Q
and RIM's line of BlackBerry smartphones – in fact, the
Motorola Q
even boasted a thumb-wheel on its side to offer users one handed usage. Additionally it features a 2.5" QVGA display with 65k colors, Bluetooth,
1.3
-megapixel camera with flash, 128MB ROM, 64MB RAM, infrared port, miniUSB port, miniSD card slot, and a 2.5mm headset jack. However, it didn't push the limits in terms of features compared to others during its time as it lacked Wi-Fi, but it did manage to pack all of those features into a shell that's 0.45" thick and weighed in at a reasonable 4.06 oz.
Despite bringing the sexy appeal into smartphones, the
Motorola Q
didn't become the hit that the company envisioned, but it set the ball rolling for others to keep in mind sleek designs for smartphones. One of the first Windows Mobile powered devices to challenge the
Q
was none other than the
Samsung BlackJack
that quickly garnered universal praise. Unfortunately for Motorola, things started to go flat as overall sales started to wan and the competition was beating the former handset manufacturer at its own game. However, we clearly witnessed how the
Motorola Q
changed the industry as we were fortunate enough to see Motorola coming around with the
DROID
– which is coincidentally hailed as the thinnest smartphone to pack a landscape QWERTY keyboard.
Motorola Q Specifications