PhoneArena's John Velasco talks about the geek life in an interview
85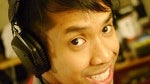 If you've been a long time and faithful reader of our site, then you're probably aware about one of our resident expert reviewers –
John Velasco
, aka Johhhhn Veee. Anyway, he was recently interviewed by one of our colleagues over at
Chip Chick
, the online tech that focuses its content primarily to women. For a while now, they've been interviewing several notable people in the tech industry for their "
Date a Geek
" pieces, which was established soon after the controversial popularity in their "
How to Date a Geek Girl
" and "
How to Date a Geek Guy
" guides.
For those of you following our site for some time now, you know John as one of our
resident reviewers
, but in this interview, he dives deeper into what it's like
living the geek life
. From answering questions such as "
what makes you a geek
" to others like "
your favorite comic book hero and why
," you'll find some interesting answers. And of course, he dives into some of his favorite gadgets and his mobile platform of choice – the latter of which will surprise you, well, us even. Without spoiling all of the dirt, here's a small sample of some of his responses in the interview. However, you can click the link below to jump into the entire interview.
Growing up, I was always fascinated by tech, and in fact, my earliest memories included calling up tech support to help me get this game running on our first computer, a Compaq 50MHz IntelDX2 tower.
When it comes down to getting work done, I'd have to say my Asus Zenbook Prime Touch, which combines a killer design with an equally dreamy looking 1080p touchscreen display.
Out of all of them, I remember liking Sam Keith's "The Maxx," primarily because of his different writing and illustration style. It was just raw and real, in the way that it showed the power of imagination.
The more I reminisce about it, I can fondly remember some of my early devices; like the HTC Apache, Motorola Q, and HTC Touch.
Do they necessarily have to be geek-like? Not necessarily, but then again, it'd be pretty sweet if they'd be cool in going full cosplay as characters from TRON – like a real working light suit to a Halloween party or something.
source:
Chip Chick