Philadelphia school fighting cell phone misuse by banning Uggs
13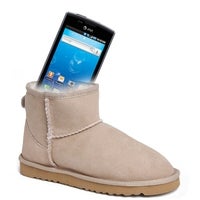 Back in prohibition years, a common practice was to smuggle booze in flasks concealed inside a pair of loose boots. That is how the term "bootlegging" became popular. Nowadays, a similar phenomenon appears to be occurring in some educational institutions, and Pottstown Middle School in Philadelphia is one of them.
Apparently, students have been smuggling cell phones inside the school by stashing them inside loose, fuzzy boots. And to prevent that from happening in the future,
the school has decided to impose a ban on open-top footwear
, including the popular Ugg brand. Those who violate the rule will get a detention, and getting caught three times will result in confiscation of the phone.
It goes without saying that a ringing cell phone could be very distracting in class, yet some believe that the ban of loose boots is a bit too extreme of a measure. Adrienne Beyer, whose daughter attends Pottstown Middle School, suggested that the actions of a handful of students who disrespect the school code are now the cause for some 600 innocent students to be affected by the ban. Nevertheless, her daughter will follow the rule, Beyer added.
What do you, guys and girls think? Is banning Uggs what will stop students from bringing their cell phones to class, or would it hardly make a difference? Feel free to share your thoughts with us in the comments.