Pelican Imaging shows us the future of the cameraphone
5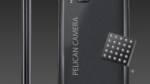 Pelican Imaging, a venture-backed
camera
designer from Mountan View, CA., hopes to revolutionize your cameraphone. They recently announced the prototype of an array camera for mobile devices. Their design utilizes an 'array' of small cameras, rather than a single
high-megapixel
lens.
Their hope is that the new design will allow for even thinner smartphones, while still improving the overall image quality. Pelican Imaging also expects the array to be capable of capturing 3D depth, gesture control, and pre/post shot image interaction.
Professor Marc Levoy of Stanford University said that "Pelican's technology has the potential to upset the traditional tradeoff between the sensitivity and resolution of a camera and its thickness." He goes on to say that the array design could allow for post-capture focusing, which would be a godsend for the less steady-handed shutterbugs.
Pelican Imaging stresses the cost-effectiveness of their design, which would further enable its quick adoption in mobile devices. While the current cameraphone design is highly capable, the array design holds the potential to be cheaper, smaller, and more functionally flexible.
source:
Pelican Imaging
via
Gizmodo