Peach could be your next social-networking app; it's available for iOS only at present
18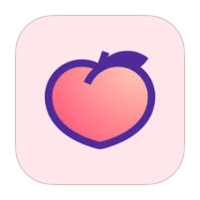 Peach is a new social-networking app that is available for iOS users only at the present time. To install the app, simply click on the "Get Peach" link on the Peach website (peach.cool), or click on the sourcelink to install it from the App Store. With the app, the idea is to "share tiny updates as you go through your day." The listing on the App Store says that you should consider Peach to be"texting with a twist."
After installing the app on your iPhone or iPad, signing up for an account is a snap. Type in your user name, add your email address and password, and activate the account. You can also post some information about yourself, and include a picture. If you want to add your friends, toss in your phone number.
One feature of Peach is its use of
Magic Words.
When you post a Magic Word on "your space," you click on the bubble that pops up to activate it. For example, type the word "here" and your current location is added to a post. Or you can type "Shout" and what you type is written in big letters to simulate screaming. Type the word "song," and Peach will use your phone's microphone to give you the name of the tune that is playing within earshot. You can check out all of the Magic Words, at least the ones that work now, by clicking on the slideshow. New ones will be added over time.
Obviously these are early days for Peach, so we really can't tell you that this is going to be the next big thing. The developer says that it pays attention to user feedback, so if you have suggestions for the app don't hesitate to write them.
Peach is a new social-networking app that is currently for iOS users only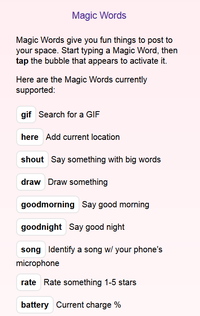 source:
Peach
via
PCMag