Parking a car with an iPhone is not science fiction anymore, Valeo shows off the technology
24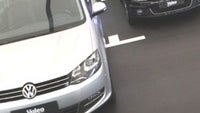 Besides browsing the web, bugging your social network buddies, and checking out the latest additions to the App Store,
parking a car is now another thing that can be done with an iPhone
. The guys from Valeo – a company dedicated to developing and producing components and modules for use in the automotive industry, just demonstrated the technology in action at the 2011 International Motor Show in Frankfurt.
Although this sounds like a feature reserved only for James Bond's personal ride, versions of the Park4U system, which is what makes all the magic happen, can be found on vehicles from several makers, namely Volkswagen, Lincoln, Ford and Audi. The system uses sensors to steer the car automatically into parallel and perpendicular parking spots. All that the driver is required to do is to control the accelerator and break pedals.
This is where the iPhone comes into play. Valeo has come up with an iPhone app that lets the user control a Park4U-equipped car remotely. The car simply steers itself into the parking spot while the driver controls the accelerator and the break remotely with their smartphone. This feature can come in handy when the car needs to be parked in a tight spot where there is not enough space for the doors to open fully, for example. Or perhaps, showing off in front of your friends is another application that comes to mind.
So, does parking a car with a phone sound like a feature that you would use on a daily basis, or more like something that a self-respecting driver should not need to resort to? Feel free to share your thoughts in the comments below.