Panasonic developing a new camera tech that can measure your heart rate
10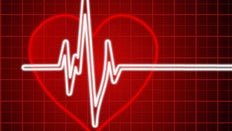 In the near future, there won't be a need for dedicated heart rate measuring hardware on your phone. Panasonic has announced that its developing a camera tech that can read your pulse just by looking at you.
The news broke out at Panasonic's own "Wonder Japan Solutions" show held in Tokyo. This new technology goes by the name of Contactless Vital Sensing, and Panasonic claims that it can make its software work on almost type of camera, even on webcams.
How does it work? Basically, Contactless Vital Sensing monitors how light reflects off your skin. Blood absorbs light, so your skin becomes less reflective as more blood circulates through it. Panasonic did a live demonstration of tech on a person's face, but the software can use "any area where skin can be seen".
The company boasts that this technology is as accurate as professional medical devices and further development will continue. The applications of this new approach go well beyond the world of mobile and medicine, as one could easily use this for lie detection, stress measurement, preventing road accidents caused by fatigue and more (imagine going to a poker game with a pair of smartglasses). Panasonic will aim to introduce Contactless Vital Sensing to the public in 2018.
source:
Nikkei Technology
via
CNet