Palm putting the brakes on the Eos - for now
This article contains unofficial information.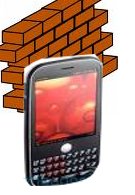 The second webOS powered device, the Palm Eos, had brakes applied to its production temporarily. Rumors floating around are hinting that Palm is waiting to see how the launch of their premier webOS device pans out. Early numbers suggests a clear indication that the Pre was a hit, while the Eos (aka Pixie) has been in the news of late with its codename being discovered in the webOS code. And of course AT&T will have to wait for their first taste of Palm's latest offering. But the temporary halt may not be a bad thing for Palm. Keeping inventory levels of the Pre will be the main priority – to keep up with the demand for it. On the other hand, they may be cautious and not over produce units so they're not stacked to the ceiling figuring out how to sell them. So the people in suits over at Palm may be looking to sit still and analyze the performance before making any rushed judgments.
via
Gizmodo