Results: that iPhone X? Paint it red!
5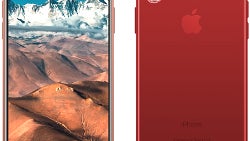 The
iPhone X
is a super-premium phone at a super-premium price that has... two colors to pick from — dark gray and white. That's hardly exciting, isn't it? Especially after leaksters insisted that the $1k handset will come with "premium colors" to match its exclusive nature. We even had a few glimpses at a Blush Gold shade, which was supposed to be donned only by the anniversary iPhone.
But, for one reason or another, we didn't get that — we only got black and white. That's not necessarily bad, as the iPhone X looks awesome in its stealthy Space Gray and we are sure that the Silver one has its fair share of fans. But we also can't help but feel that Apple might just introduce another color after the crazy demand eases off a bit and some supply lines can be assigned to experimentations.
So, we asked you — if that were ever to happen, what new color would you like to see on the iPhone X? Surprise, surprise: red won. In a wild coincidence, Samsung Mobile Korea has just announced
a Burgundy Red Galaxy S8
, which looks stunning. Maybe Sammy has its finger on the pulse of current trends a bit better?