Paint job already coming off from the 2 month old Nexus One?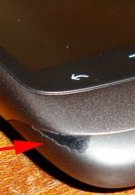 As much as we'd like to imagine that our mobile phones will be able to retain its pristine figure for all time, we know that reality begins to sit in as normal wear and tear takes its toll on our much beloved devices. Being a bit over 2 months old, there seems to be one HTC Nexus One owner who is experiencing some paint job issues with the powerhouse smartphone. This one individual has stated that the device is constantly placed in the neoprene case that comes packed with the phone, but there are some areas where the paint job on the phone are apparently peeling – it's noticeable on the one corner of the phone and close to the dock connectors. Would this be deemed as part of normal wear and tear so early in the life of the venerable Android
2.1
smartphone? Even though usage among owners vary greatly, it could also be due to other unnamed forces or being extremely rough with the phone – it goes to show that even the best devices can fall victim to time.
HTC Nexus One Specifications
|
Review
source:
Nexus One Support Forum
via
Engadget