P2i liquid repellent nano-coating demo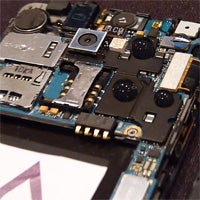 If one of your favorite devices has ever had an unfortunate meeting with liquids, you know just how vulnerable they are – sometimes to even seemingly small spills that may appear harmless at first glance. While there are cases available that offer liquid protection, they are often bulky and many are unsightly. Companies like P2i are coming to market to work with manufacturers to offer a better solution – liquid repellent nano-coating.
P2i's Aridion is an invisible liquid repellent that "coats every aspect of a finished product at a nanoscopic level and protects much more thoroughly than alternative approaches." The coating itself is about as thin as human hair so the device maintains its intended look and feel while offering a barrier between your expensive mobile devices and liquids. It can be used on device internals as well as the exterior. Unfortunately, it can not be added on after the fact, as P2i explained to us, used devices have been exposed to dirt and other debris, therefore if the coating was applied over even a small particle, it would deteriorate the effectiveness and lifespan of the coating.
Here at CTIA 2012, we got a chance to checkout P2i's water repellant solution in action. Check out the video below where you can see the effects on a common tissue as well as an actual device.