Ouya competitor Gamestick hits Kickstarter goal in just 2 days
7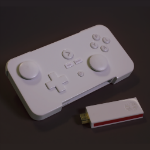 We've been covering the
Ouya
console that came up on Kickstarter a while ago, because the idea of an Android game console is one that sounds pretty sweet. But, there's a new competitor for Ouya on Kickstarter called Gamestick that's actually more our speed, because it can more easily be mobile. The Gamestick is literally an HDMI stick that fits into its own gaming controller for portability.
Not surprisingly, the Gamestick is just as popular a project as Ouya and passed its goal of $100,000 in just two days, and as of this writing, the project had more than doubled its goal. The Gamestick isn't as powerful as Ouya. It is packing an Amlogic 8726-MX processor, 1GB RAM, 8 GB of flash storage, WiFi, Bluetooth 4.0 (low energy), and will offer support for XBMC & DLNA from Sept via an optional firmware update.
The Gamestick is also a bit cheaper than the Ouya. The Ouya is on pre-sale for $99, but you can get the Gamestick (assuming it is ever made, which you can't always count on with Kickstarter projects) for just a $69 pledge. That's not too bad for an Android-powered game console that will fit in your pocket.