Outdoor Technology's ADAPT Bluetooth Adapter hands-on
2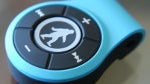 If you're like me, someone who prefers wired headphones more than wireless ones, you'll surely appreciate this tiny gizmo that proves its versatility in more ways than none. Recently, I've been checking out
Outdoor Technology's ADAPT
, which is this super tiny looking Bluetooth adapter that turns any wired speaker component into a wireless one.
Factoring the notion that this is a gadget that's coming from a company named Outdoor Technology, it doesn't surprise me that there's a
rugged aspect
to the design of the ADAPT. For one, the
soft touch matte finish
of the ADAPT helps to give it a clean appearance at all times – doing wonders when it comes to repelling dirt, debris, and the occasional splash of liquids. Indeed, it's
tiny in size
to fit in the palm of my hand, plus, its small figure contributes to its lightweight feel.
Occupying the entire front surface of the ADAPT, there are 5 specific buttons that provide us the functions of volume up, volume down, track forward, track reverse, and a multi-function middle button. Of course, they're all distinctive to the touch and offer responsive feedback when pressed – so yeah, no issue trying to activate any one of them. Around its sides, we find its microphones for phone calls, aux-in port to accept our pair of headphones, and a
proprietary charging por
t. With the latter, we would've preferred seeing something more standard, like a microUSB, seeing that if you lose the included charging cable, you're going to be out of luck for some time until you get a replacement.
At the end of the day, it's wonderful that the ADAPT can turn any pair of wired headphones into a wireless one. Also, the clip in the rear of the APAPT enables it to be attached to us at all times – so there's no worry about misplacing it. Flaunting a price point of
$39.95
online with a rated battery life of 5-6 hours, it's an attractive offering to say the least, but as an alternative, you ought to check out
BlueAnt's Ribbon
too.
source:
Outdoor Technology