Our cell phones are covered with germs
9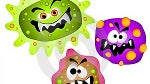 As powerful as our beloved smartphones are, it turns out they might be just as unhealthy, suggests a new report. According to the president of the American Academy of Family Physicians and chief of family medicine at Children's Hospital Colorado, Jeffrey Cain, using a cell phone may be downright harmful to your health, as the gadgets that we like to bring everywhere with us are very often covered with nasty germs.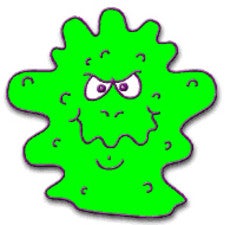 The germ - man's greatest enemy?
Why is that? Well, as people tend to bring their phones to all kinds of places - from the living room to the bathroom and the gym, professors from the Medical University of South Carolina say that this constant contact with all kinds of surfaces, coupled with the usual amount of grease that's found on a touchscreen phone's display, is bound to result it being covered with germs.
"Where there is grease, there are bugs,"
says professor Michael Schmidt, who's an important figure at the Medical University.
One of the biggest problems, according to the research, is that cleaning the phone's screen using standard cleaning methods like alcohol, glass cleaners or even electronic cleaning wipes can cause damage to it. Things, however, get more interesting as Corning's (makers of Gorilla Glass) Boh Ruffin states that using standard cleaning products shouldn't degrade the performance of the glass. Still, it is believed that special coatings such as the oliophobic one used by some manufacturers might get damaged after repeated wiping. The device manufacturers themselves advise against using stuff like aerosol sprays or alcohol to clean their devices.
Corning's Boh Ruffin says that a normal microfiber cloth should do great at removing the germs stuck on a handset's glass. However, Dr. Schmidt from the Medical University of South Carolina claims that this method tends to remove about 99% of the buggers, which, according to him, is not really enough, because sometimes all that a person needs to get sick is to ingest as few as 10 organisms.
A UV disinfectant used to sanitize a keyboard
It turns out that most special methods for sanitizing cell phones are currently being developed. For example, a company called PhoneSoap is working on a device that will both charge and sanitize your handset by using UV-C light. Still, that device isn't expected to appear on the market until January 2013. A product that users can purchase now is some kind of a UV disinfectant wand. According to industry experts, such a device should kill the germs residing on the screen of your phone thanks to its UV light, without actually damaging the coatings of the screen, as it doesn't even need to touch it.
Are you guys worrying about the possible unhealthy effects that you smartphone may have?
source:
WSJ