Oppo Find 7 and 7a owners experiencing yellowish colors, company responds
15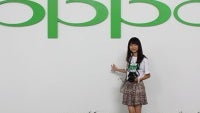 It appears Oppo Find 7 and Find 7a owners in China have been complaining that their smartphones' displays are changing colors. The issue is of a big enough scope to make Oppo adress it in an official statement. The smartphone makers acknowledged that customers experience two issues with the phones. First, users of the Find 7a have its screen appear yellow-ish at the phone's bottom edge, which Oppo has owed to uneven distribution of the light along the panel's surface. The company is ready to test and replace customers' phones if necessary.
The second problem affects the Oppo Find 7's QHD display. Customers have complained that the screen's colors are too much on the yellow side, and less true than those of the Find 7a's 1080p panel. Oppo claims that the issue is resolved in a recent software update.
The Oppo Find 7a's 5.5-inch IPS panel is built by Japan Display Inc. In our review, we noted that the panel is "very cold" at a color temperature of 9531K (the reference point being 6500K) and specific colors are incorrect. However, we figured that the display is nice-looking overall. We're yet to notice any of the two problems for ourselves, but it appears the Find 7 and Find 7a are prone to errors - just like most smartphones out there.
source:
GizChina