Open sourced App Inventor to return in April
1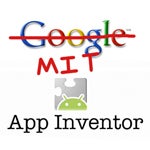 Google's App Inventor was a great idea whose potential was never realized. The visual
block-based programming environment
was intended to help simplify coding apps for Android, while in the process teaching users more about the concepts behind good coding. After a fairly lengthy closed beta, the
final release
still had egregious limitations, including not being able to use more than one "page" in an app, and no way to easily package the resulting app for distribution on the Android Market.
The result was a low adoption rate, and App Inventor became an early casualty of Larry Page's "more wood behind fewer arrows" house cleaning in the latter half of 2011. Happily, the Massachusetts Institute of Technology offered to take up the gauntlet and open source App Inventor. Their limited roll out seems to be happening now, with the goal of full access in April.
The App Inventor service is being run out of MIT's Center for Mobile Learning, so any future development is likely to be along educational lines rather than the development of a fully realized visual programming environment that can compete with Eclipse or other developer environments. Of course anything that helps produce the next generation of developers is ultimately a good thing for mobile, so you won't hear us complaining.
Any App Inventor users out there? Will you be using MIT's version once they release it, or have you moved on? Let us know!

source:
MIT
via
Android and Me