Ookla: T-Mobile is the fastest mobile network in the U.S.
25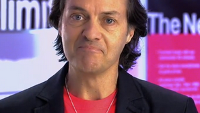 According to Ookla, the company that developed the
Speedtest
app, T-Mobile currently has the fastest mobile network in the U.S. The report shows that the nation's third largest carrier has an average 4G LTE speed of 19.62 Mbps down and 9.90 Mbps up. That tops the average 4G LTE speed of 18.52Mbps up and 7.27Mbps down scored by Verizon.
AT&T finished third with its average 4G LTE speed of 14.61Mbps up, and 6.04Mbps down. Sprint finished last and had an average 4G LTE speed of 10.44Mbps up and 4.12Mbps down.
Ookla used a whole set of special rules to determine which carrier was the fastest. Over 5 million speed tests were averaged together to prevent any bias from shading the tests in a certain direction. The app developer also explained that it focused on LTE speed results because had it used non LTE averages, it would have created a bias toward networks hosting non LTE devices. T-Mobile's 4G LTE pipeline now covers 290 million POPs and should reach 300 million by the end of the year. It also is expanding its Wideband LTE capabilities, which should improve data speeds on T-Mobile's pipeline.
T-Mobile's Wideband LTE signal is now available in 185 markets. The carrier is the strongest in the urban Northeast and in the West. The carrier also got some long awaited news on Tuesday afternoon when Sprint's second quarter results revealed that
T-Mobile had hopped over its rival to become the third largest U.S. mobile carrier
.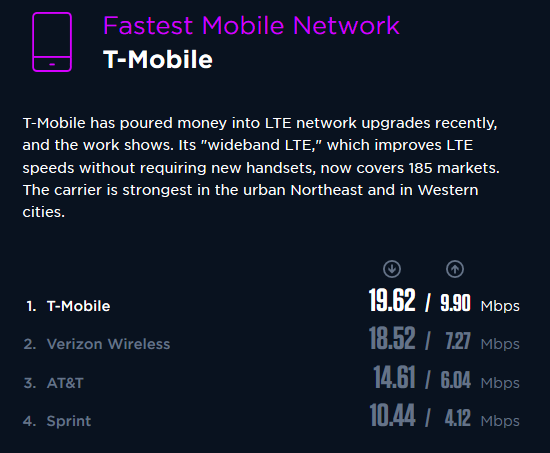 T-Mobile has the fastest mobile pipeline according to Ookla
source:
Speedtest
via
TmoNews