Only One man will be left standing at the end of this survival game
3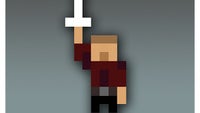 Imagine a game where your goal is to be the sole survivor on the battlefield, where hordes of enemies are attacking you from all directions and you must fend them off using all the weapons and skills you have at your disposal. Okay, now go and get Only One for your Android or iOS phone or tablet because that's pretty much what you do in this game. And it is quite fun, especially if you're a fan of the survival genre.
Only One starts off easy, with just a couple of enemies trying desperately to hurt you. These should be no problem to defeat with a few taps, either by slashing them with your sword, or by pushing them off the edge of the cliff. But the more you play, the higher the count of enemies gets, and what makes the game even more challenging, there's no place to hide from them.
Thankfully, your trusty sword isn't your only weapon. Over time, you'll unlock various defensive and offensive abilities, which will give you the upper hand for a short while. For example, you'll be able to spin your sword, thus damaging all enemies around you, or to cast a spell that pushes enemies away from you. Speaking of enemies, they come in various shapes and sizes: warriors, archers, magicians, and so on. There are mini bosses as well, which attack you with their unique power skills.
Only One is available for free on Android and iOS. If you wish, you may buy extra power for your hero using real-world currency.